Welcome to the StationX Cyber Security School VIP membership section - The best place to grow your security skills and advance your career.
With the VIP membership, you'll get full access to every single course and practice exam, all training material, all upgrades and all the new courses we add. You get access to all the top experts and top courses all in one place through VIP membership.
Our training covers everything a security professional or an aspiring security professional needs to know. You can master:
Information and cyber security
Ethical hacking
Penetration testing
Networking
Bitcoin, Crypto Currency and Blockchain
Coding
Secure coding
Linux
Exam preparation
Digital forensics
Incident response
and much more.
Learn to pass the top security certificates
CompTIA IT Fundamentals
CompTIA A+
CompTIA Network+
CompTIA Security+
CompTIA Cybersecurity Analyst CySA+
CompTIA Pentest+
Certified Ethical Hacker (CEH)
Offensive Security Certified Professional (OSCP)
Certified Information Systems Auditor (CISA)
Certified Information Security Manager (CISM)
Certified Information Systems Security Professional (CISSP)
Cisco's CCNA R/S 200-125
Cisco's CCNA (200-120)
Cisco's CCENT certification / ICND1 (100-105)
Cisco's CCNP
Plus we are adding new courses all the time.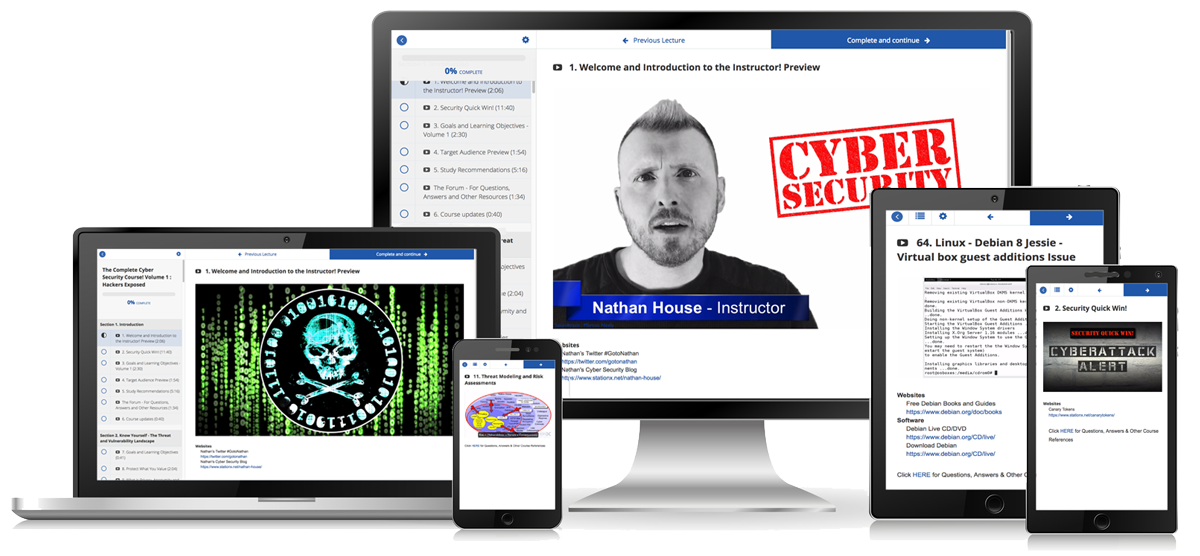 We have beginner courses, intermediate and advanced courses, suitable for both someone trying to get into cyber security and existing security professionals.
We hand pick only the top courses so you only get the best learning experience. Our platform is user friendly providing both mobile and desktop access. You can stream or download lectures at any time so you have the flexibility to learn at your own speed and in your own time.
Through this world-class learning experience and the top-notch virtual classrooms you will acquire a practical skill-set and boost your career. See our thousands of positive reviews.
Save Money and Learn More
If you go to live cyber security training classes you will be aware already that these classes can cost thousands of dollars each making them inaccessible for many. Here at StationX we want cyber security training to be as accessible as possible. So we make the training super cost effective and affordable. The lowest prices we can, so you have no debts or loans, yet still get the same world class security training.
Who is the target audience for VIP membership to our Cyber Security School?
The ideal person suited for access is anyone who is really serious about growing their skills and advancing their career within the cyber security arena.

Anyone who wants to stay on top of the latest in information and cyber security through continued access to the best training.
Team or Company VIP Access
Are you interested in multiple person access to VIP for your team or company?
We offer great deals for multi seat VIP access. Please use the live chat to inquire now and be sure to leave your email address.